COMPANY
PURPOSE
Our purpose is to share our passion for Table Mountain by giving everyone an authentic experience of an iconic natural wonder.
TABLE MOUNTAIN AERIAL
CABLEWAY CO (PTY) LTD

DIRECTORS
A Ray (Chairman)*#•
A Pillay#
W Parker (Managing)
F H Stroebel*#•
R Fenner*
M N Skade•
C Gooden*
T Adams (Alternate)
S Hercules (Financial)
P de Waal (Alternate)
B Moore*#
D Parker (Alternate)
*Member of the Audit and Risk Committee
•Member of the Social and Ethics Committee
#Member of the Remuneration and Nomination Committee
---
REGISTERED OFFICE
Lower Cable Station
Tafelberg Road
Cape Town
8001
Lower Cable Station
PO Box 730
Cape Town
8000
---
AUDITORS
Moore Stephens
Chartered Accountants
BANKERS
First National Bank
Southern Africa Limited
---
COMPANY REGISTRATION NUMBER
1926/002949/07
---
BOARD COMMITTEES
Audit and Risk Committee
Constituted in terms of Section 94 of the Companies Act and comprises of at least three members who are independent non-executive Directors elected by the shareholders at the Company's Annual General Meeting.
Remuneration and Nomination Committee
Constituted in accordance with the recommendations of King IV and comprises of not fewer than three non-executive Directors, of whom the majority must be independent.
Social and Ethics Committee
Constituted in terms of Section 72(4), read with Regulation 43(5), of the Companies Act and comprises of not fewer than three directors, one of whom must be a non-executive Director.
28 MILLION
REASONS TO SMILE
Looking back on another busy year at Table Mountain Aerial Cableway Company, I am filled with pride and gratitude. Our team have yet again excelled and impressed, and their commitment and hard work is the reason why we were able to welcome our 28 millionth visitor in January.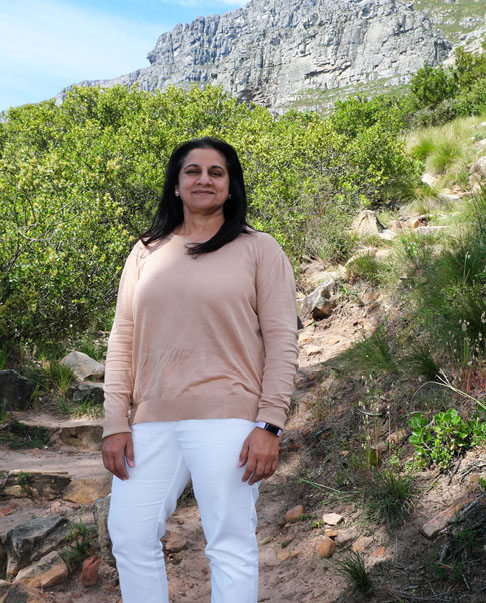 RESPONSIBLE TOURISM – AND GIVING BACK
As a destination that operates within the borders of one of the world's most beautiful national parks, we simply have to make responsible behaviour part of everything we do, every day. I must salute the TMACC team who helped us to be awarded the Best Resource Management award for our Water and Waste Management initiatives at the 2019 African Responsible Tourism Awards in April 2019.
We maintained our carbon neutral status, by offsetting TMACC's carbon emission through investment in the Kuyasa housing project, a low-carbon initiative in Khayelitsha. We also retained our Diamond Heritage Environmental Rating in recognition of 5 years continuous commitment to environmental performance of the highest standard.
In addition to these the World Travel Awards declared us as 'Africa's Leading Tourist Attraction' in June this year. But that's not where it stopped for us.
We continued giving back to our communities, in many different and exciting ways. In April, TMACC was the title sponsor of the Cableway Charity Challenge, which helped in raising just over a million Rand for charity.
Our education initiative, Class in the Clouds, continues to make a difference in the lives of learners. Over the past year, we were honoured to have 13 077 learners take part in this programme.
More than 100 organisations participated in our CSI programme over the past 12 months, and we are proud to say that more than 95% of our retail products are sourced locally.
These achievements are clearly being noticed, as we received more than 8 000 applications from potential recruits via our online recruitment drive for peak season. People want to be part of the TMACC team.
AND SPEAKING OF OUR TEAM …
As Managing Director, I am privileged to have a dedicated Executive Management Team at my side. I could not ask for a more dedicated team of professionals to call my colleagues. In the past year, we welcomed Neil Arbous to the IT portfolio and Emile Streicher as the Executive Manager for Engineering and Maintenance.
A BETTER EXPERIENCE, FOR EVERY VISITOR
The City of Cape Town has heard our pleas for help to address the deterioration of Tafelberg Road due to the heavy traffic volumes it is required to carry. We are therefore grateful to report that repair work has started. The bus parking bays have also been moved, to help ease congestion at the Lower Station forecourt.
IN CONCLUSION
As I write this report, we stand on the eve of our 90th anniversary celebrations. I have had the chance to look back at our archives, to photographs of what our operation entailed back in 1929. Back then we could barely transport 19 people to the top of the mountain at a time. Today, we transport approximately 800 visitors per hour, and up to 6 000 visitors per day during peak season. We truly have achieved much over the past 90 years.
Here's to another successful year!
Wahida Parker
Managing Director
---
HIGHLIGHTS OVER
THE PAST 90 YEARS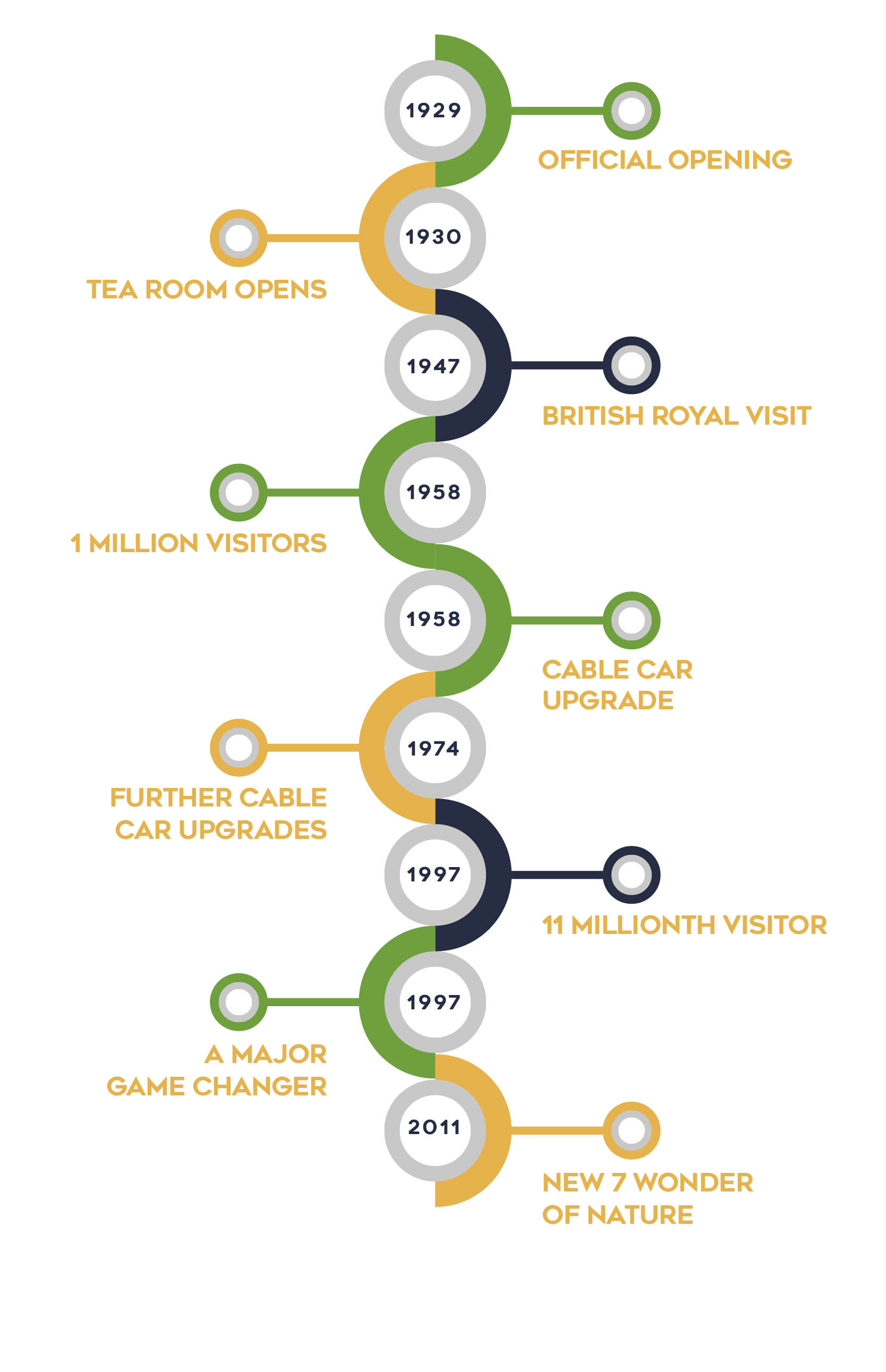 2019
28MILLIONTH
VISITOR
Since the 1997 upgrade the Cableway has welcomed a further 17 million visitors! On 17 January 2019 TMACC welcomed its 28 millionth visitor, Mildred Garret and her sister Elizabeth Titus.
CABLEWAY SPECIALS
& PROMOTIONS
Over the past few years several specials have been introduced to make Table Mountain more accessible to locals. We continue to afford locals the opportunity to experience our African wonder of nature with discounts of up to 50% via the following specials:
PARTNERSHIPS
AND SPONSORSHIPS
The Cableway actively seeks to collaborate with tourism industry stakeholders. As such the Cableway is represented on a number of tourism boards, events and projects. In 2018/2019, these included:
CAPE TOWN TOURISM
The Cableway is proud to be a long-standing Executive Partner of Cape Town Tourism, the City's official destination marketing organisation.

CAPE TOWN BIG 6
In 1999 the Cableway's former Managing Director, John Harrison, together with David Jack, former Chief Executive of the V&A Waterfront, approached other iconic attractions in Cape Town, and formed a marketing collaboration called the Cape Town Big 6.
Celebrating its 20th anniversary in 2019, this partnership offers cross marketing opportunities, as well as opportunities to showcase our offerings at local and international travel trade shows and insight sharing.
Collette Van Aswegen, our Executive Marketing Manager, represented the Cableway, alongside our Big 6 partners at the Tourism Indaba in May 2019.

SPONSORSHIP OF THE
CABLEWAY CHARITY CHALLENGE
On Saturday, 6 April 2019, we once again hosted the annual Cableway Charity Challenge that saw 190 participants summit Table Mountain 792 times, and surpass the event's 5 000 summit milestone! As title sponsor we entered 15 Cableway team members. One of our team members Pasteur Nkurunziza completed 7 laps, 2 behind Oriole Bolus who completed the most laps on the day, 9 laps. A record R1 035 000 was raised for local charities Ons Plek, Cool Play, and Paedspal. In addition to this, 10% of the funds raised were awarded to Wilderness Search and Rescue, which plays such a pivotal role in caring for our mountain.

AAVEA CONFERENCE 2019
In 2014, the then Cableway Managing Director Sabine Lehmann founded the Attractions Africa conference, a two day attractions management conference where industry peers, both locally and internationally, were able to share insights, key learnings, best practice case studies and more with each other.
Over the past five years, the Cableway has supported this event as a proud sponsor, as well as providing marketing support and sharing best practice and key learnings.
CABLEWAY ONLINE
DIGITAL TRANSFORMATION
In 2008, in line with digital trends, the Cableway revamped its website from a static site to one that allows fresh content to be added via blogs. As part of this digital transformation, the Cableway expanded its digital footprint by launching its social media platforms, Twitter, Facebook, Instagram and YouTube.
CABLEWAY SOCIAL
Over the past year, the Cableway's social media accounts have experienced the following growth:
This past year the Cableway's social media team continued to produce tactical and viral-sharing worthy videos.
NATIONAL MILK TART
DAY BAKE-OFF
In celebration of National Milk Tart Day on 27 February 2019, we challenged 10 novice bakers to re-create our Cableway pastry chef Octavia Nkomombini's amazing milk tart in a delicious bake-off! The video of this bake-off was released on National Milk Tart Day. Not only was it widely shared; it also helped to promote our famous milk tart!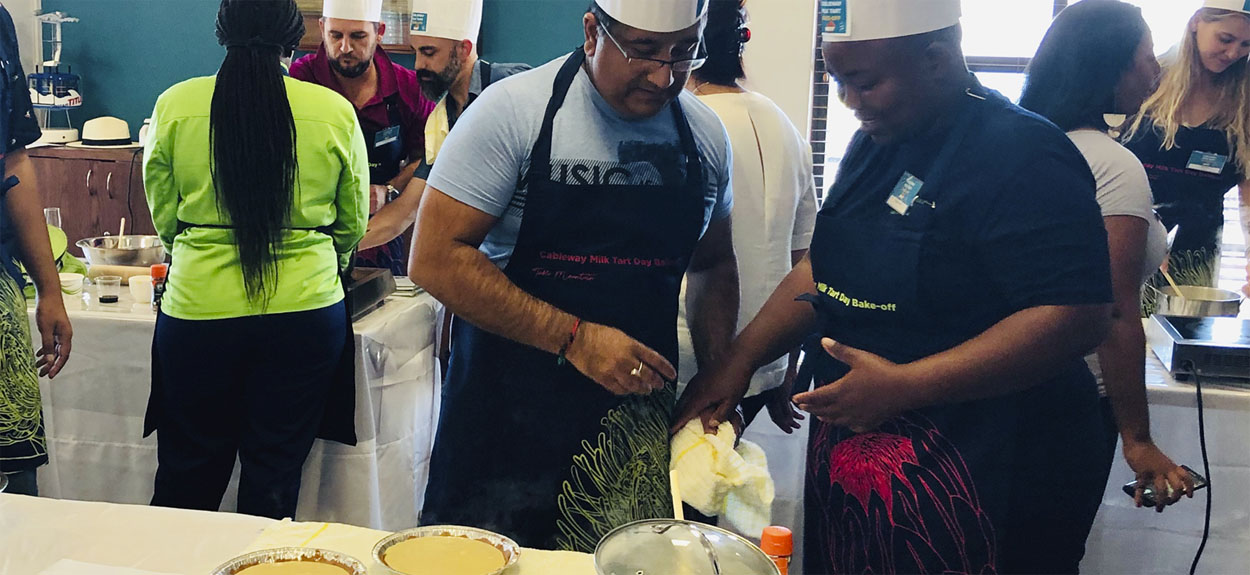 RESPONSIBLE
CABLEWAY
It's been an incredible year for responsible tourism at the Cableway, culminating in being awarded the Best Resource Management award for our Water and Waste Management initiatives at the 2019 African Responsible Tourism Awards in April 2019.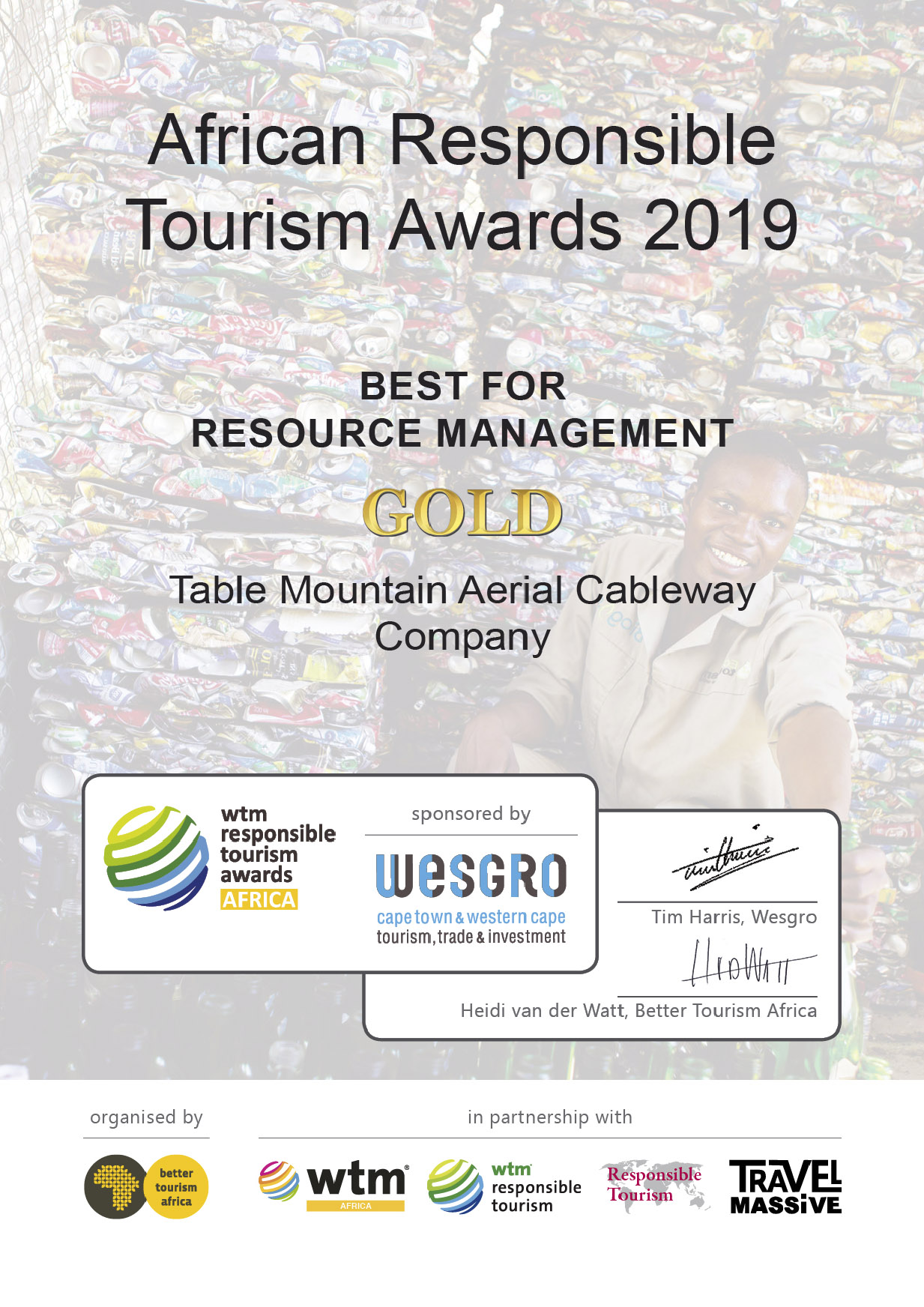 ENVIRONMENTAL
MANAGEMENT SYSTEM
As part of the upgrade in 1997 an Environmental Management System (EMS) was put in place to assist with protecting the environment. The EMS ensures that potential negative impacts on the environment are minimised, that positive impacts are enhanced and that continual improvement takes place. The monitoring of waste, electricity and water all form a part of this EMS. Over past years our environmental efforts have been recognised as follows: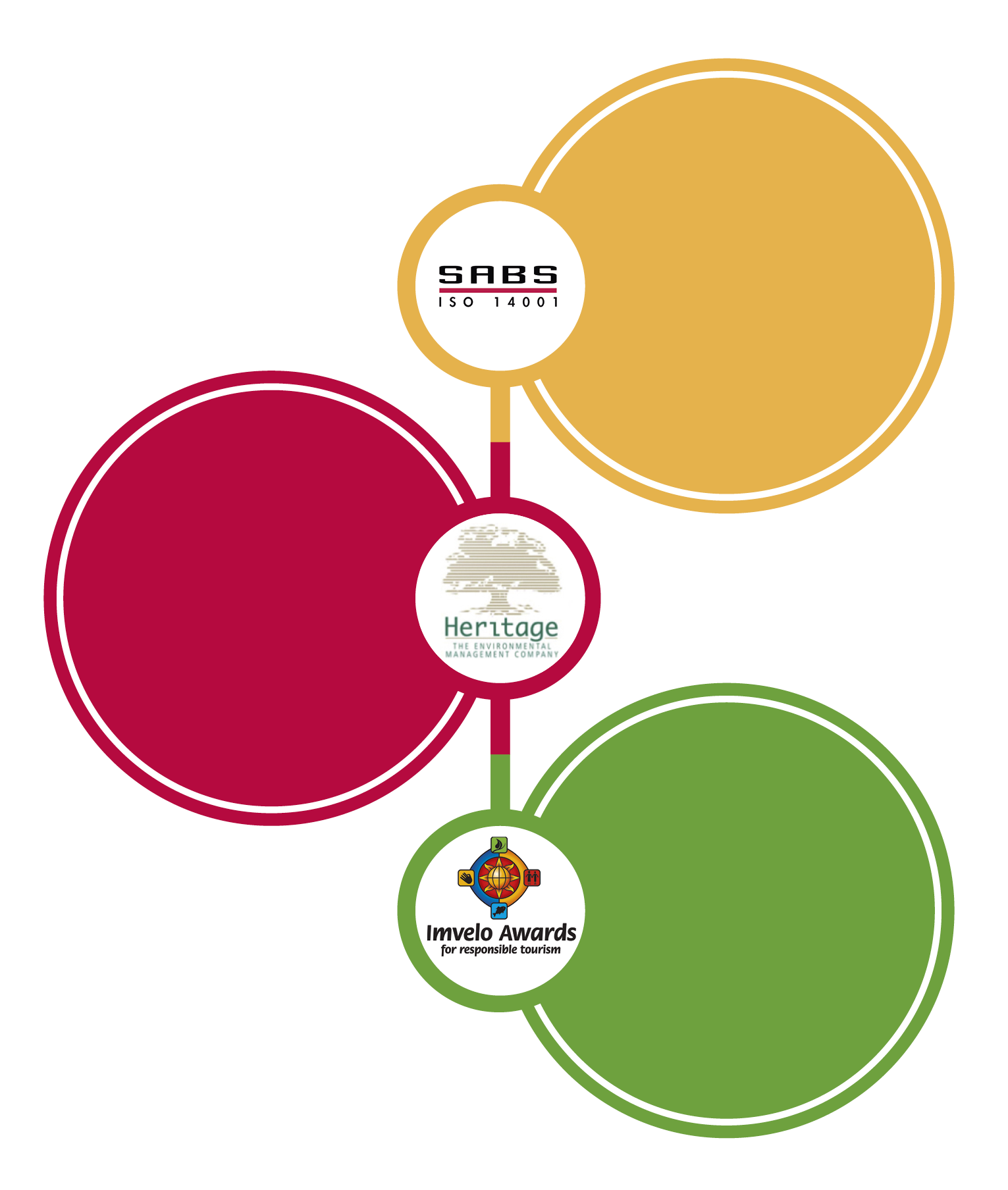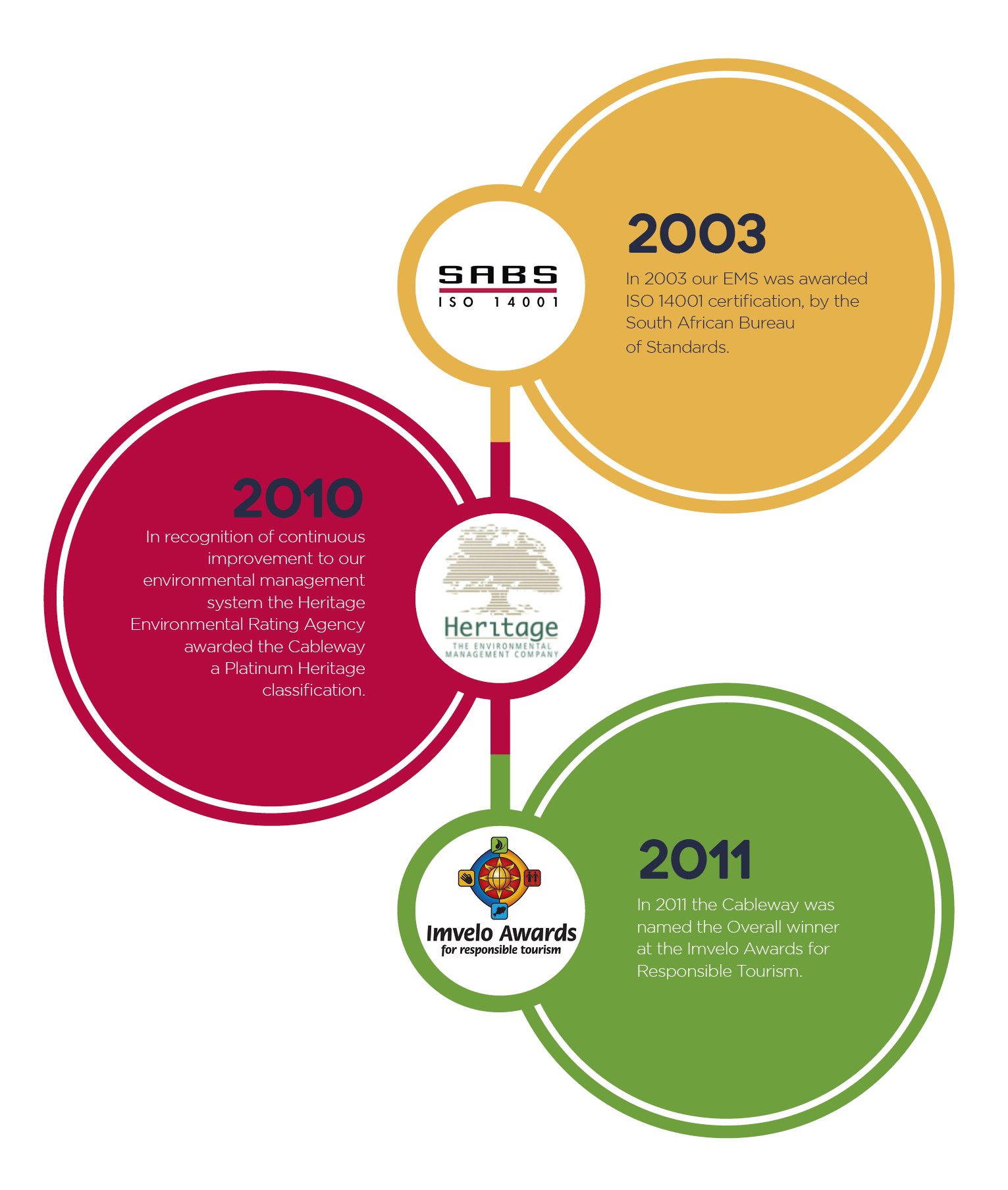 WATER MANAGEMENT
Our water saving measures include: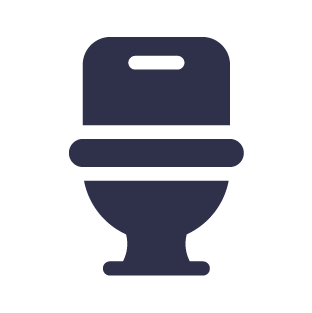 RECYCLING TOILETS
which use only 250ml of water per flush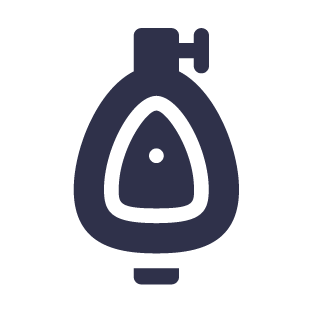 WATERLESS URINALS
which use a chemical liquid to sanitise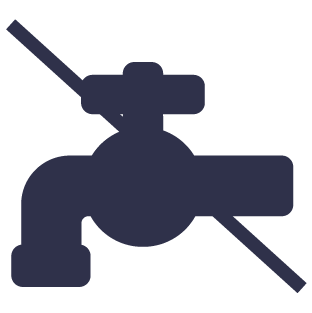 TAPS SWITCHED OFF
The hand basin taps have been switched off in our visitor and staff restrooms at the Lower and Top Station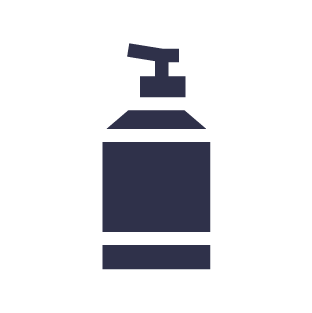 HAND SANITISER
We now offer waterless hand sanitisers in the restrooms as a replacement for the water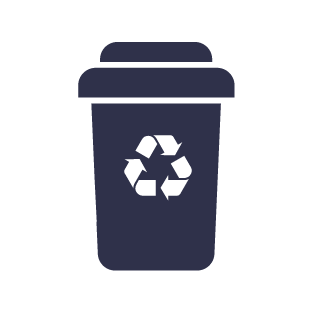 COMPOSTABLE CROCKERY AND CUTLERY
Compostable crockery, cutlery and cups are used in our food and beverage facilities as this reduces the need for washing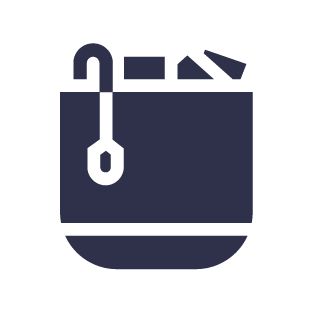 MELTED ICE
From ice-buckets is used to wash the floors in the Café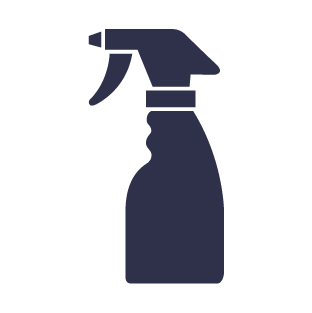 SPRAY-ON CLEANING
chemicals and waterless mops are used to clean our front of house areas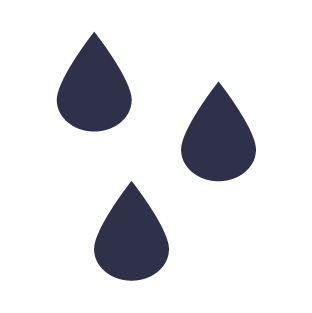 MISTING SYSTEM FREE
During the summer peak season, we did not switch on our misting system in the queues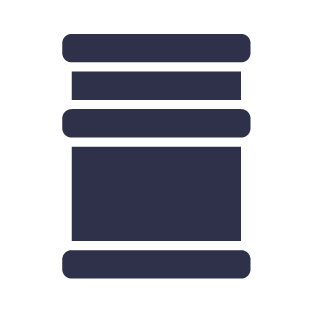 BOREHOLE SYSTEM
We installed a borehole system to use as an additional source of water
OUR WATER SAVING EFFORTS HAVE RESULTED IN THE FOLLOWING: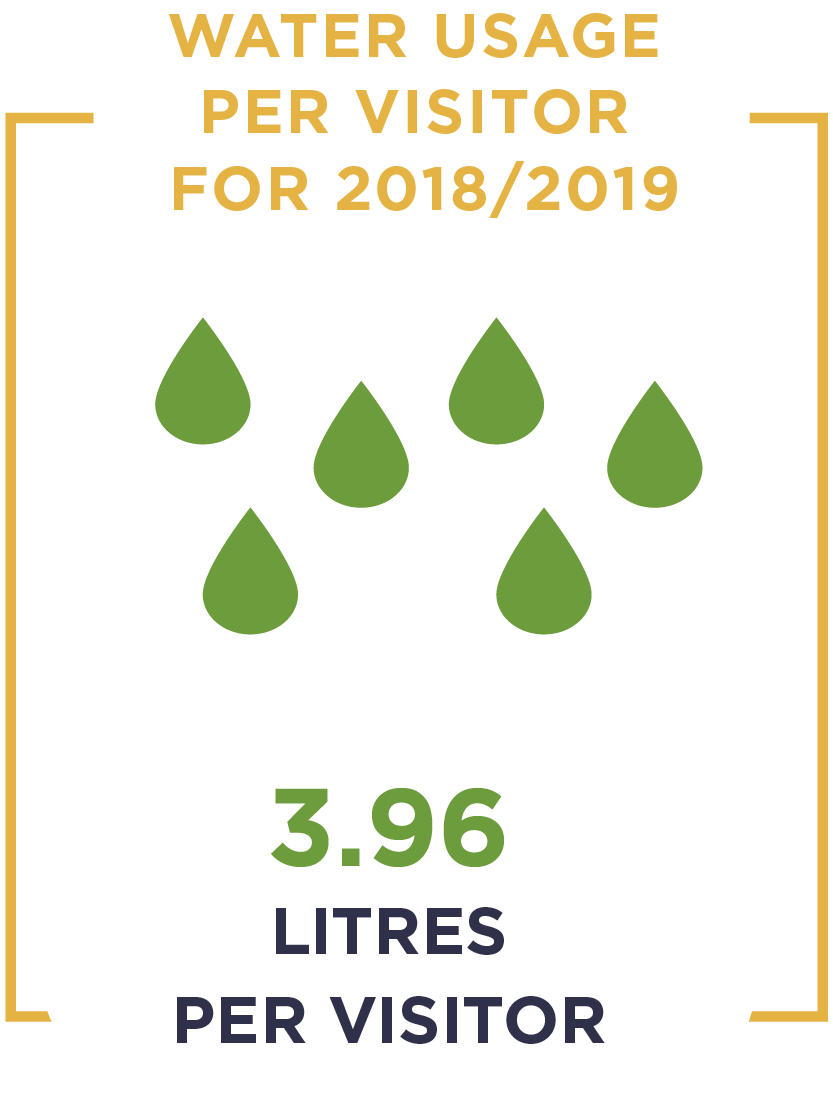 TARGET WAS 5.35 LITRES PER VISITOR. AVERAGE WATER USE PER VISITOR IS DOWN BY: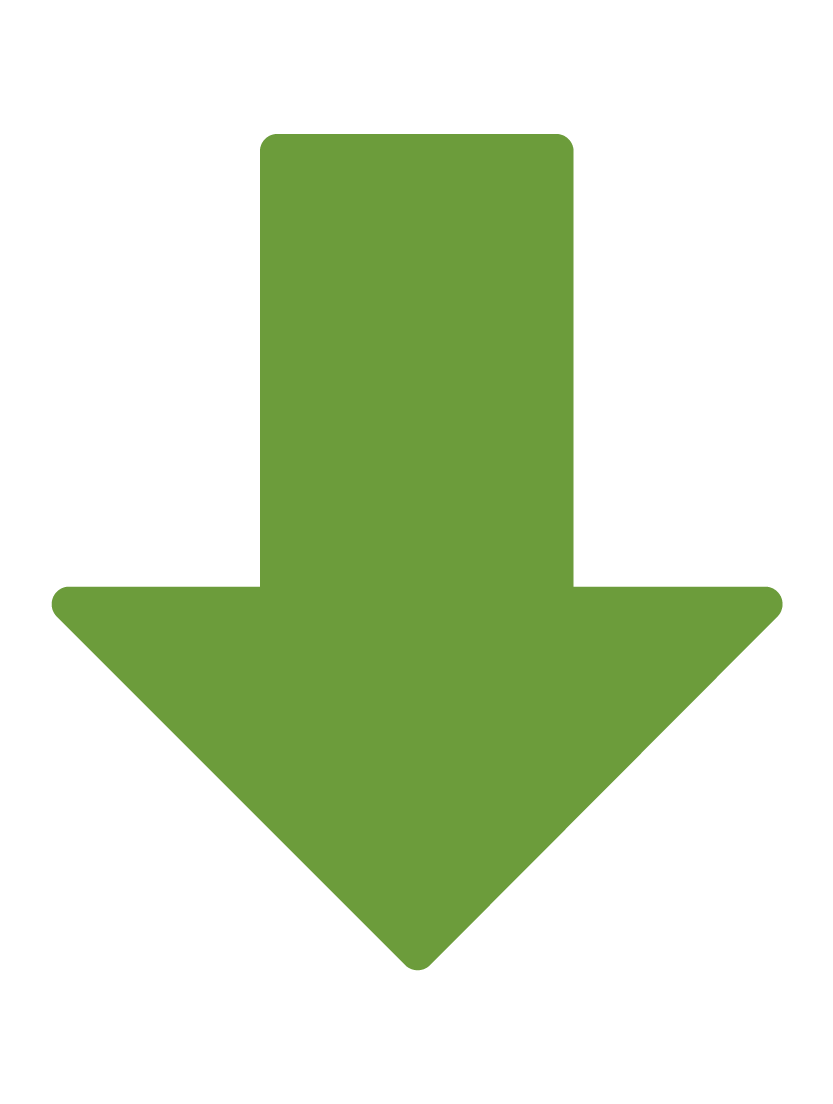 10%
WASTE MANAGEMENT
Our efforts to reduce the volume of waste we send to landfill sites has resulted in a staggering 53% reduction in the volume of waste that we sent to landfill over the last 10 years. Our waste management measures include: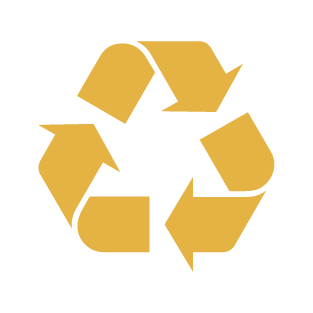 Appointing a fulltime in-house recycler whose job is to ensure that the maximum amount of recyclable waste is removed from the general waste stream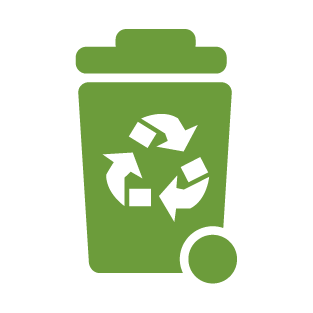 Increasing the number of recycling bins, especially in the offices (waste paper recycling) and in the food preparation areas (organic waste recycling) to ensure that waste is organised at its source of disposal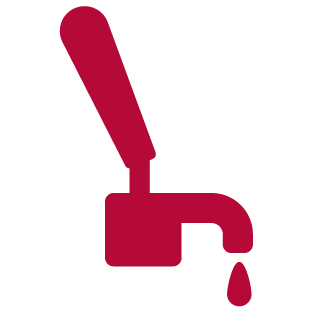 Soda fountains and beer on tap have been installed in the Table Mountain Café, which has dramatically reduced the use of glass, soft drink cans and plastic bottles. We now also serve cold drinks and beer in recyclable PLA cups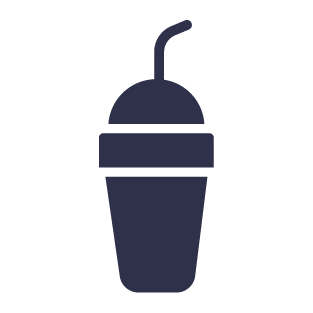 In 2010 compostable straws were introduced in all the food and beverage outlets at the Cableway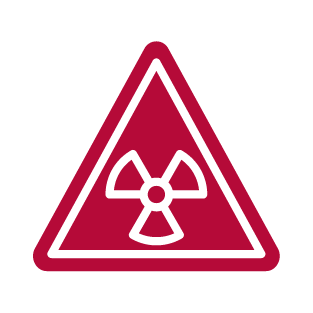 All hazardous waste, such as printer cartridges, fluorescent lights, medical waste, batteries, and so on, are removed by specialist companies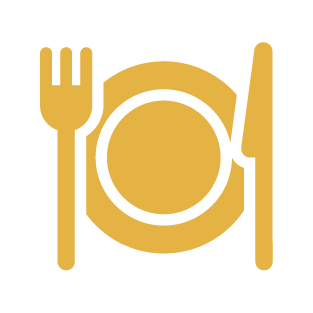 A formalised organic waste recycling programme has been introduced which deals with our food and wet waste, as well as with used compostable plates and cups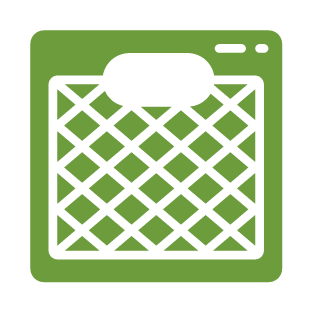 Our suppliers have also reduced the amount of packaging when delivering. We also encourage them to take back boxes or bags that goods are delivered in, or make use of re-useable crates/boxes
TOTAL RECYCLING
IN 2018/2019
INCREASED BY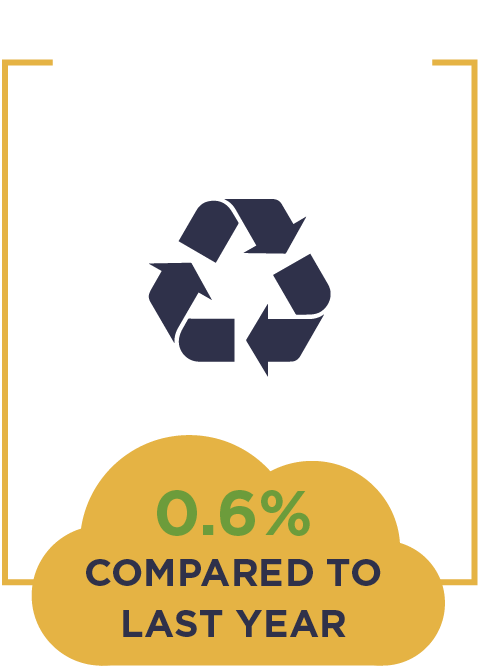 THE AVERAGE RECYCLING PER VISITOR INCREASED FROM: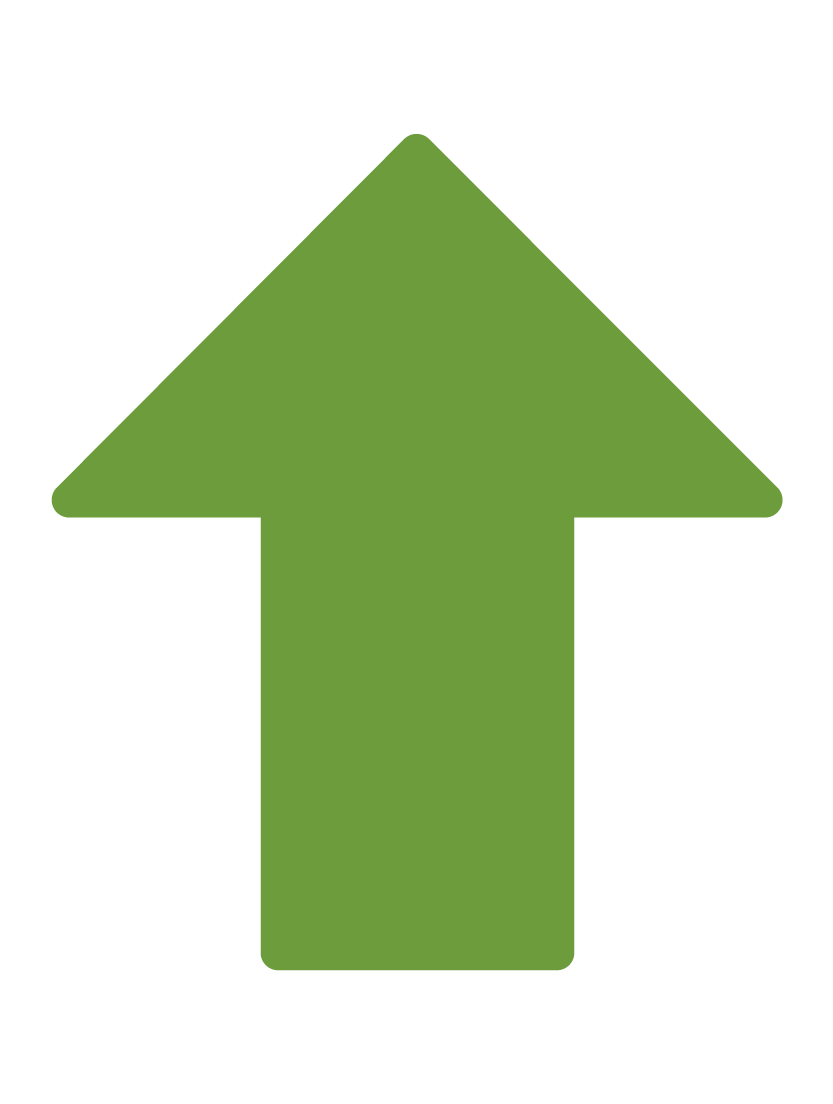 0.06kg TO 0.07kg
PER PERSON
Waste to Landfill: 0.06kg/visitor (target 0.08kg/visitor)
ELECTRICITY MANAGEMENT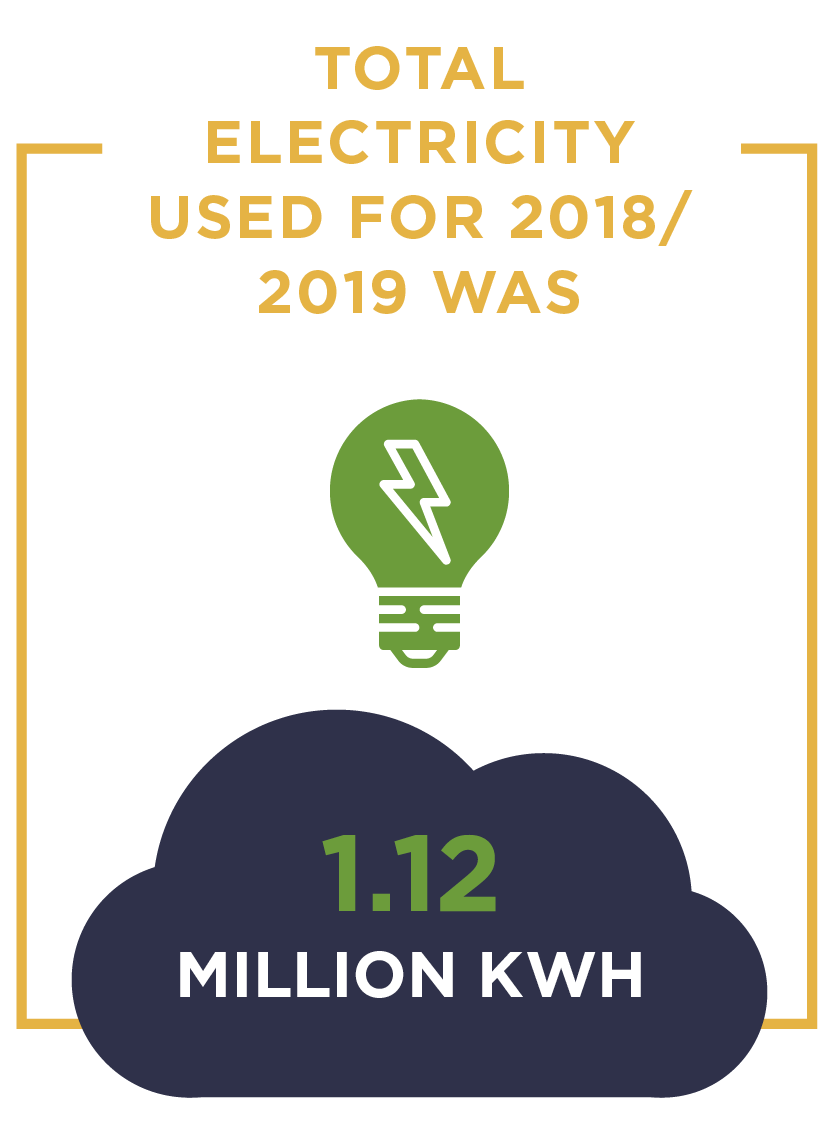 EQUATING TO AN AVERAGE OF 0.93KWH PER VISITOR, BELOW THE TARGET SET OF 1KWH PER VISITOR.
The Cableway has implemented the following electricity-saving measures:
Fitting timers and blankets on all essential geysers
Switching off non-essential geysers
Using energy-saving bulbs in all our light fittings
Fitting timers to all outside lighting circuits
Regulating air conditioners in our offices between 18°C and 21°C, to save energy while still providing comfortable working conditions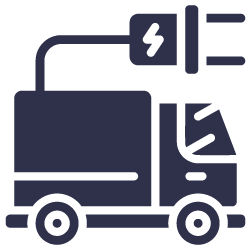 THE ENERGY GENERATED BY THE DESCENT OF OUR CABLE CARS SEES:
1 500KWH a month being fed into the electricity grid
CARBON NEUTRAL
CABLEWAY
In 2015, in order to offset the amount of carbon emissions produced by our operations, we invested in the Kuyasa Housing Project, a low-carbon initiative in Khayelitsha. Through purchasing units, we are ensuring that houses in this housing project are provided with proper ceilings and solar-heating systems. Our current Carbon Neutral status is as follows: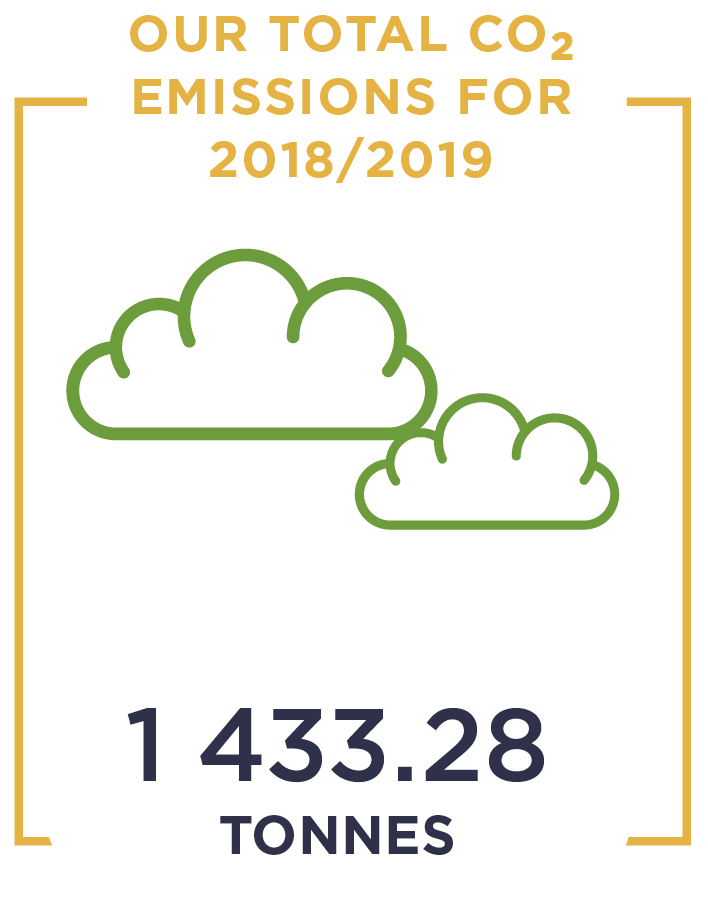 Our emissions for 2018/2019
have been offset by investing in the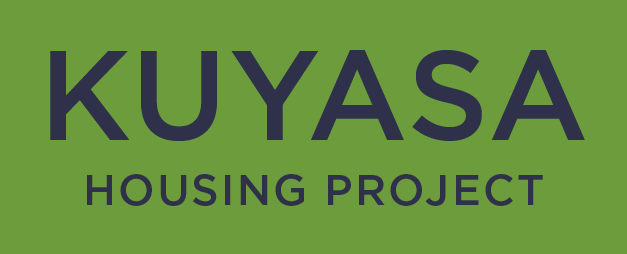 Kuyasa is a low-carbon housing development in one of the poorest and most vulnerable corners of Khayelitsha in the Western Cape.
The project has installed solar water heaters, insulated ceilings and compact fluorescent energy efficient lightbulbs (CFLs) in 2 100 houses, resulting in monetary savings, improved indoor air quality, and reduced greenhouse gases.
We've recorded the following CO2 emissions over the past year (in tonnes):

Electricity

Fuel consumption
Diesel in generators and Company owned vehicles, gas in kitchens

Refrigerant gases
Fridges and air conditioners

Waste
79.6 tonnes of waste produced is recycled

All other indirect emissions
Air travel and 3rd party transportation

Water
---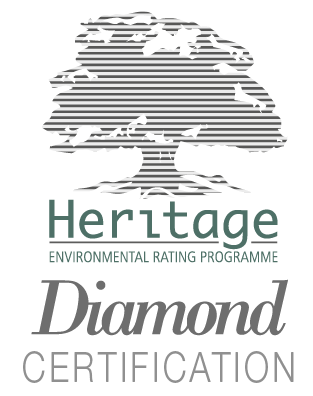 The Cableway has retained its Diamond Heritage environmental rating in recognition of five years of continuous commitment to environmental performance of the highest standard.
CARING
CABLEWAY
Each year, the Cableway issues tickets to non-profit organisations, the underprivileged and school learners giving them the opportunity to experience our attraction, through our Corporate Social Responsibility and Class in the Clouds programmes:
CSI PROGRAMME
More than 100 organisations (NPO's, NGO's and community organisations participated in our CSI Programme.

CLASS IN THE CLOUDS
The Class in the Clouds programme, launched in 2001, runs weekdays, from 1 March to 31 October each year, providing learners with amazing views, fun activities, interesting walks and the most fascinating facts about Table Mountain, a wonder of nature.
In 2018, 13 007 learners participated in the Class in the Clouds programme.
To date, 304 674 learners have participated in the Class in the Clouds programme

TEAM
CABLEWAY
CHAMPIONING
EMPLOYMENT EQUITY
Through our Employment Equity Committee we ensure that we embody what the Employment Equity Act aims to achieve. In 2018 staff members nominated brand new committee members who represent our workforce through diversity, occupational categories and levels in the workplace.

STAFF RECRUITMENT
The Cableway's recruitment drive has evolved over the years: we've gone from recruitment via newspaper advertisements to expos at shopping centres to an online drive only.

We received 8 665 applications from candidates who aspired to join the Cableway for seasonal employment in our 2018 recruitment drive.
About 900 applicants who registered their details on our online portal were shortlisted for group interviews. A total of 100 seasonal staff were employed.
ANNUAL MAINTENANCE
SHUTDOWN TRAINING 2018
The theme of our 2018 annual maintenance shutdown training for staff was "Employee Business Awareness". This was to create consciousness around our business and explain how the role of staff members aligns with our Vision, Mission, Values and Goals of the Cableway. This year we incorporated companywide teambuilding, where we took staff on an 'Amazing Race' journey on the red City Sightseeing bus. The aim was to achieve industry related educational outcomes and create an awe-inspiring experience through learning for our staff.

DISCOVERY WELLNESS DAY 2019
As part of encouraging a healthy lifestyle for our staff we hosted our annual Discovery Wellness event in May 2019. A total of 101 staff members completed wellness screenings.

TEAM CABLEWAY OVER 90 YEARS
---
1929

When the Cableway opened on 4 October 1929, we had fewer than 20 employees

1997

In 1997 prior to the upgrade, our Cableway team had grown to 55

2019

As at the end of June 2019, the total headcount of employed staff members at the Cableway was 191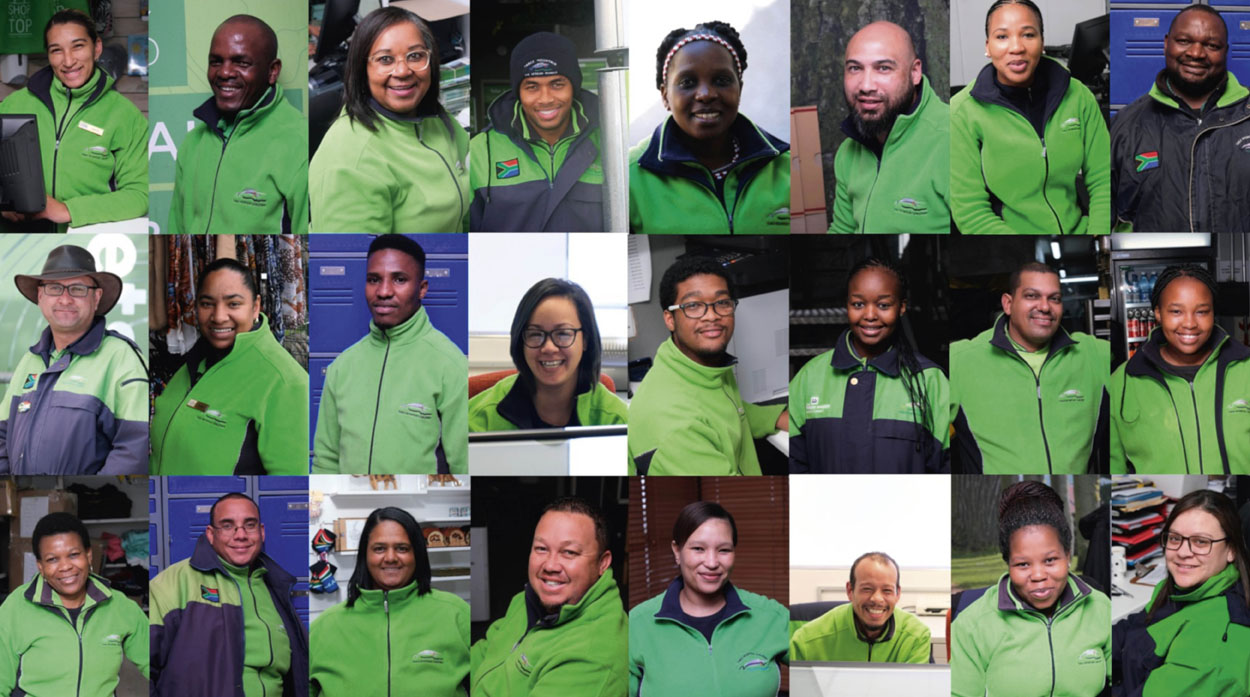 SIYAFUNDISA
TMACC ACADEMY OF LEARNING
Siyafundisa is committed to delivering to our People Brand by providing various learning opportunities to all staff members. Various learning platforms were created which not only support our staff members, but also unemployed and disabled youth in communities in the surrounds of our Iconic Natural Wonder.
See below some of our achievements over the last year:
CABLEWAY
SIYAFUNDISA
1
LEARNERSHIPS (EMPLOYEDAND UNEMPLOYED)
In 2018/2019 Siyafundisa, in partnership with KG Business Development, facilitated a National Certificate in Generic Management (NQF 4) learnership for employed and unemployed youth. This programme started on the 01 November 2018 and ends 31 October 2019.

2
LEARNERSHIPS (PEOPLE LIVING WITH DISABILITIES)
Since 2017, Siyafundisa in partnership with "I- Can Academy" facilitates a General Education and Training Certificate: Domestic Services NQF Level 1 Learnership for people living with disabilities. This is part of our commitment to provide learning opportunities for unemployed people living with disabilities.

3
BURSARIES
In support of TMACC's People Brand, we offer staff members the opportunity to further study through our bursary scheme. In 2018 we offered bursaries to the following staff members:
01
TANIA GELDENHUYS
Online Short Course: Business Management
02
WAYNE ANDREW
Culinary Arts Diploma
03
BONGIWE MGUDLWA
Diploma in Patisserie
04
OCTAVIA NKOMBINI
Grade 12 Certificate
05
CARL RAIKES
Introduction to Wine Certificate
06
KURT KINNEAR
Advanced Diploma in Management
07
RUDY VAN DIEMAN
Adventure Guide
Mountaineering Certificate
08
SIYABONGA SETONG
Postgraduate Certificate in Further Education
09
ANGELICA GOMBA
Travel & Tourism Certificate
10
SIMONE BOWMAN
Higher Certificate in Facilities Management
11
MURIEL SIPHOKAZI MAHILIHILI
Fundamentals of Project
Management Certificate
12
LINDIWE KEWYAMA
Supply Chain Management
Short Course
13
ESPERANCE TUMAINI
BTech Degree in Retail
Business Management
14
NOLUYANDA MTSHEMELA
Grade 12 Certificate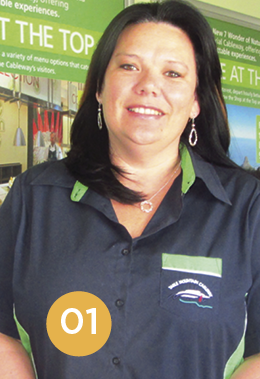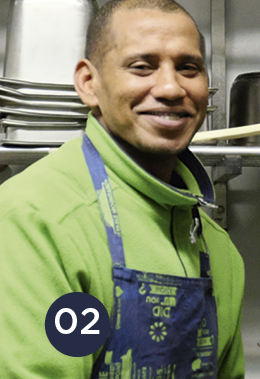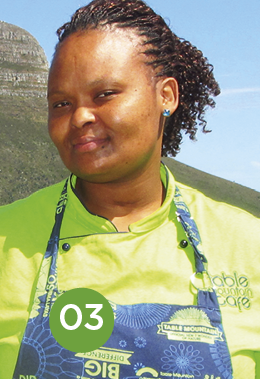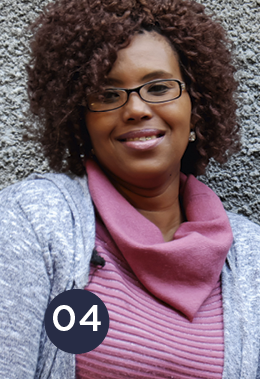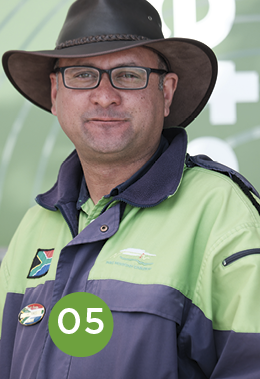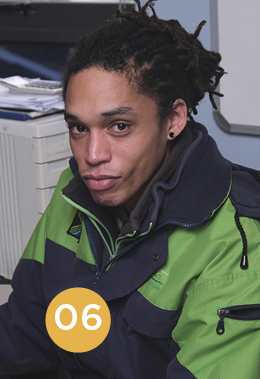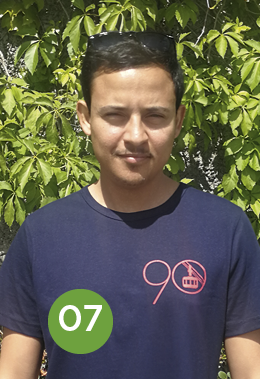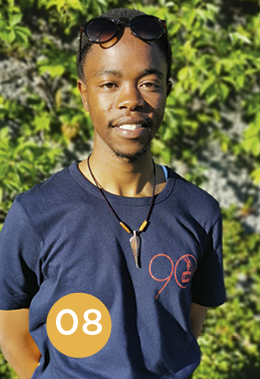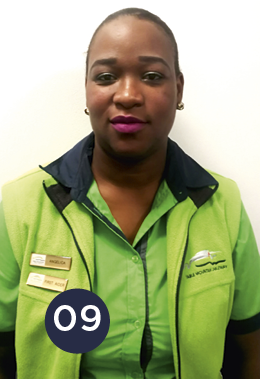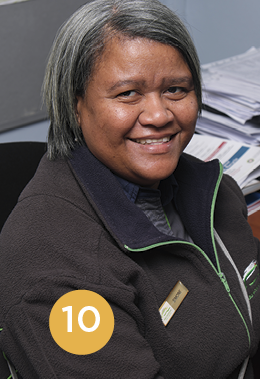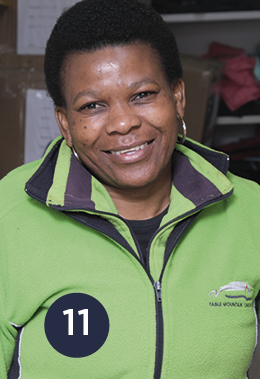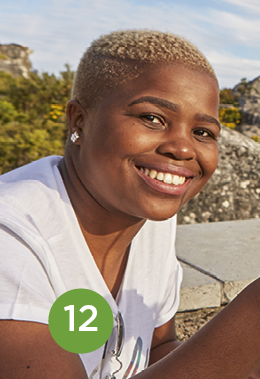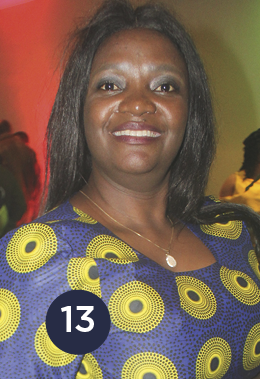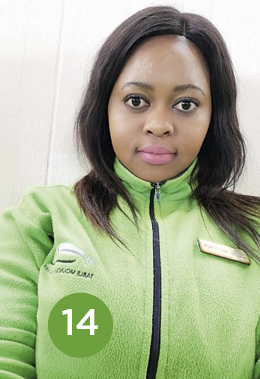 IMPROVING THE
VISITOR EXPERIENCE
Over our 90-year history, plenty of changes have been
made to our site to improve the visitor experience.
These include: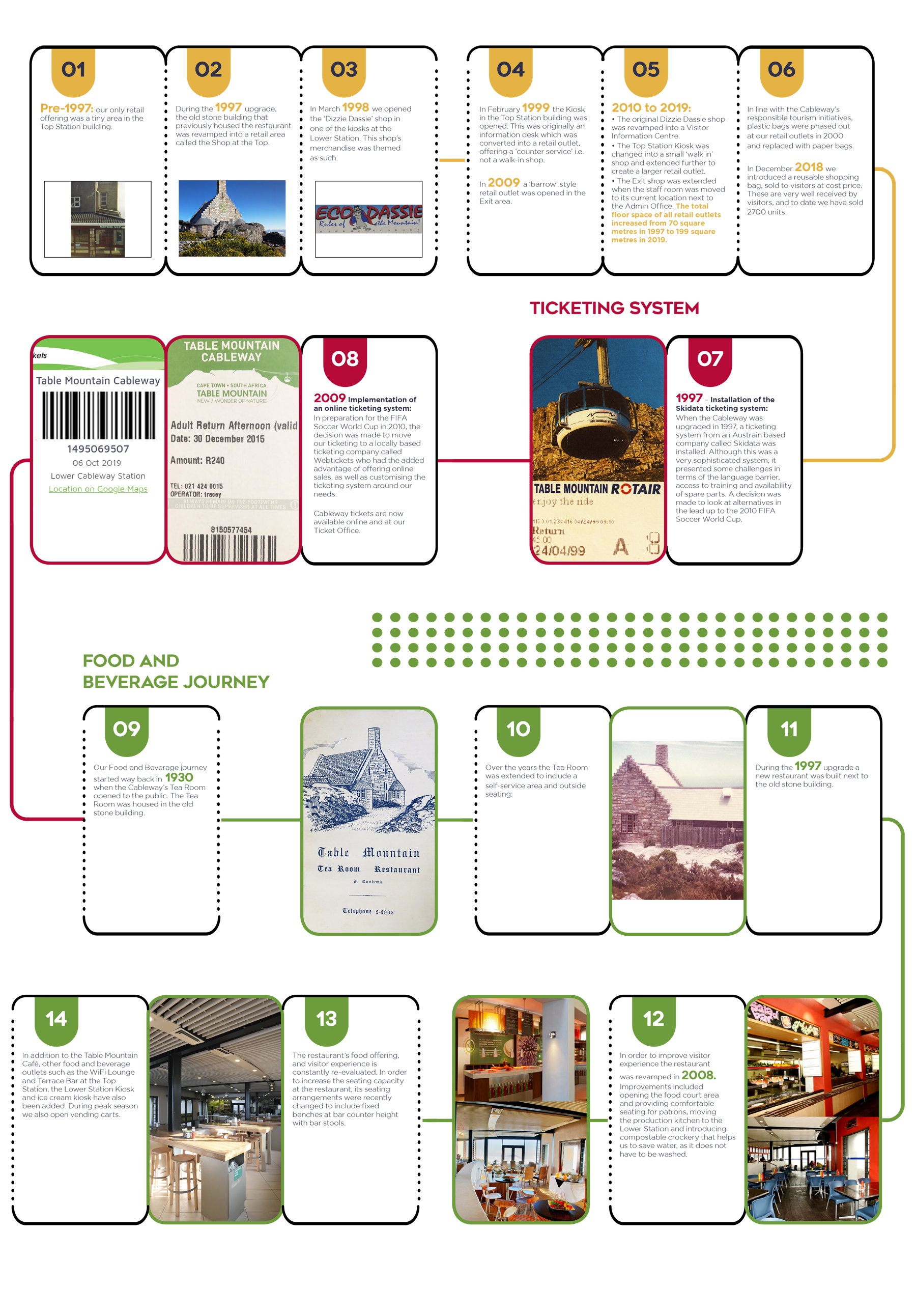 NUTS
AND BOLTS
ANNUAL MAINTENANCE
OVER THE YEARS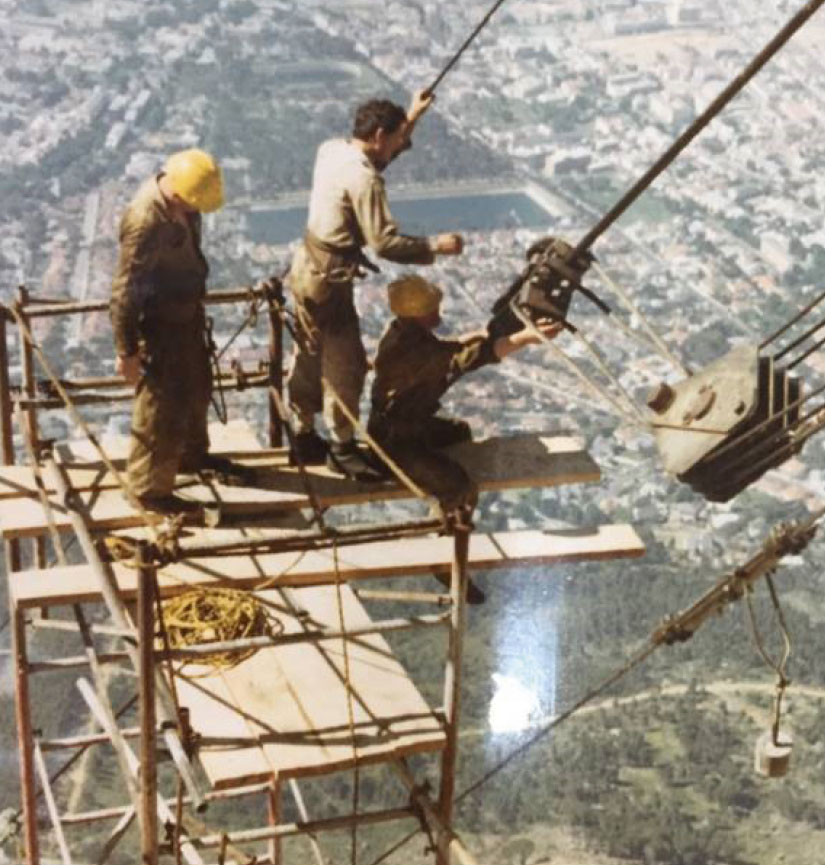 Transporting more than a million visitors to the top of Table Mountain per year and ensuring an enjoyable, and more importantly a safe journey for all, literally comes down to the nuts and bolts of our operations.
Throughout the year the Technical team performs monthly checks, tests and maintenance as part of compliance with the highest global cableway standards as set by the Swiss Governing Body for Cableways (BAV).
The 2018 annual maintenance shutdown included:
The servicing of the main gearbox, generators and backup generators; general electronic component changes and control checks as well as rope cleaning, slack rope tests and measurement, brake and load testing and cabin alignment checks
Waterproofing the main building
Upgrading the toilet for disabled visitors in the Upper Cable Station building
Spray-painting of the internal lining of the tanks
Giberit Taps Installation
Swapping around the exit and entry points at the Upper Cable Station to ease the visitor flow
Installation of a borehole at the Lower Cable Station
General changes to improve the visitor experience at our attraction this past year has included:
Construction of a new bus parking facilities towards the end of Tafelberg Road to ease congestion at the Lower Station forecourt
The installation of specialised cameras to assist SANParks with their security concerns
Other highlights for the Technical Team include: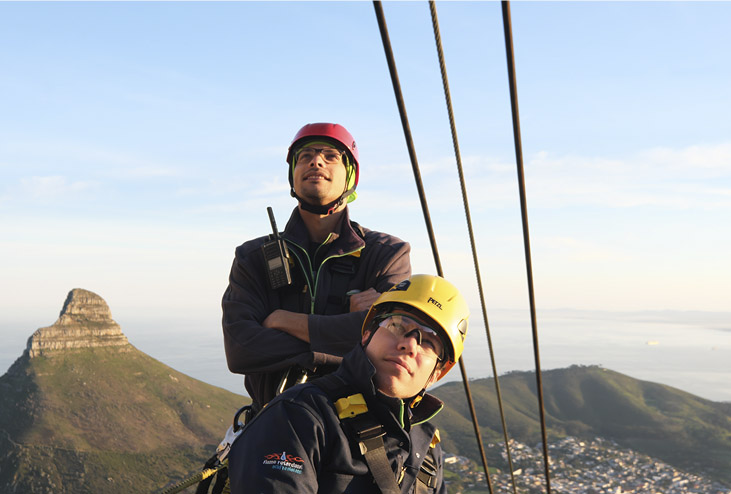 STAFF ADDITIONS
Emile Streicher joined as Executive Manager for Engineering and Maintenance in March 2019 and Ruan Du Preez joined as Electrical Artisan in June 2019.
NUTS AND BOLTS
Emile introduced the LEAN methodology to improve the technical team's efficiency. This includes 5S (formally standardised housekeeping), Visual Management, Work Planning and Control, Root Cause Analysis & Focused Improvement, standardised target driven meetings and standardised work.
STAFF TRAINING
The Technical team participated in a refresher High Elevation Work course and Fall Arrest training. This also included an update to our Fall Protection Plan and rescue procedures which was formulated in partnership with RAI (Rope Access Inspection), a company which specialises in Rope Access, Fall Arrest and equipment supply.
Two of our Electricians are currently furthering their studies: Johdrick Monzinger is currently studying towards a formal qualification in Refrigeration, and Ruan du Preez is currently studying towards his N3 in Electrical Engineering.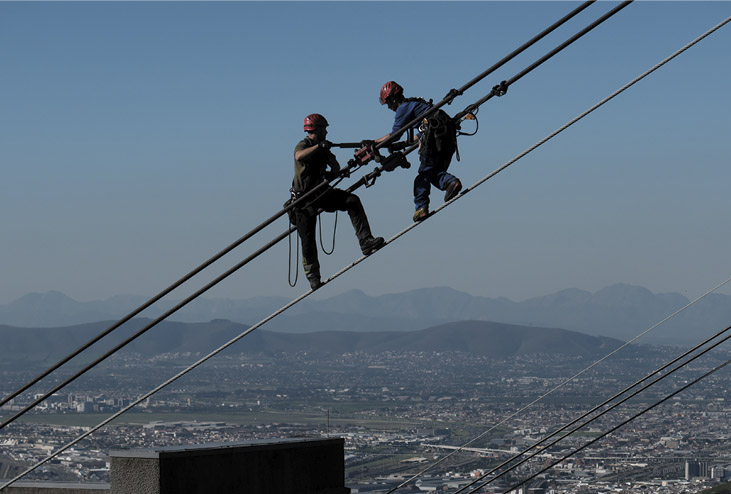 OUR PROUD
ACHIEVEMENTS
2019 African Responsible Tourism Awards for Best Resource Management

Table Mountain is named Africa's Leading Tourist Attraction in the World Travel Awards

Recertification of ISO 14001

TMACC's Carbon Neutral status is announced

2016 Cheapflights Travel Awards: Best South African Attraction

Recertification of ISO 14001

Attained Level 3 B-BBEE rating

African Responsible Tourism Award - Best single resource management: Water Management (finalist )

Heritage Environmental Rating: Diamond

2015 Lilizela Tourism Awards: Provincial Visitor Experience of the Year

Table Mountain is named as Africa's leading tourist attraction in the World Travel Awards

TMACC TripAdvisor's Certificate of Excellence for the quality of reviews received over the past year

Retained Level 4 B-BBEE rating

SANParks Cape Regional Achievement Award: Business Partner of the Year

Imvelo Award for Responsible Tourism – Best single resource management: Waste Management (finalist)

Attained Level 4 B-BBEE rating

SKAL International Award for Responsible Tourism: finalist

Attained Level 5 B-BBEE rating

Table Mountain is named one of the New7Wonders of Nature

Overall winner of 2011 Imvelo Award for Responsible Tourism

Health & Safety Management System is OHSAS 18001 certified

SANParks Cape Regional Achievement Award: Business Partner of the Year

Heritage Environmental Rating: Platinum

Mail & Guardian Greening the Future Award: finalist

South African Tourism's Attraction of the Year Award: finalist

Re-certified as ISO 14001-compliant

Imvelo Award for Responsible Tourism Best Single Resource Management: Water Management (winner)

Heritage Environmental Rating: Silver

Ishkus Power Achievement Award Business Partner

of the Year (in recognition of energy savings)

SANParks Cape Regional Achievement Award: Business Partner of the Year

Imvelo Award for Responsible Tourism – Best Overall Environmental Programme (finalist)

Table Mountain becomes a World Heritage Site

Our Environmental Management System is awarded ISO 14001 certification

The Green Globe Achievement Award: a commendation for Environmental Management and Awareness in our first year of membership

EPPIC (Environmental Planning Professions Interdisciplinary Committee) National Premium Award for Integrated Environmental Management: in recognition of the environmentally sensitive way in which the Cableway was built and is operated

Fulton Commendation: for excellence in use of concrete (during the 1997 upgrade)